DETAIL
"Via hole course ☆ gold" 70 kinds of barrel raw seeds etc. All-you-can-drink ★ 2 hours 7 items 4500 yen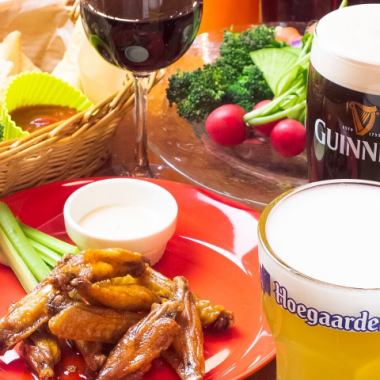 By using a coupon4500 yen
tax included
All-you-can-drink available

Guinness and Hugarden etc, 5 types of beer draft beer, all-you-can-drink sparkling and 70 kinds of bottle wine drinks!
Reservation deadline

Coming to the store until the desired date of the day 18
Guinness, Hugarden White etc. 5 kinds of beer draft beer and cocktail · about 70 kinds of drinks such as wine are all-you-can-drink for 2 hours! Food is also a solid product such as Irish pub's classic fish & chips and buffalo chicken wings ♪
Course menu
◆ Colorful seasonal salad
◆ Assorted sausages
◆ Fish & Chips
◆ Buffalo chicken wing (chicken wing fry with sweet sauce)
◆ Capricious pizza (full-scale Napoli pizza with stone kiln)
◆ Whimpest pasta
◆ Pocky
※ 5 draft beer with unlimited drink at + 500 yen! Craft beer is OK !!
※ If you have any requests about cuisine, please feel free to contact us.
* The content of dishes may change due to purchase of the day.
All-you-can-drink menu
- Keg beer
· Guinness (Ireland) / Kilkenny (Ireland) / Hugarden · White (Belgium) / Bell · View Creek (Belgium) / Ebisu
Beer cocktails
· Half & Half (Guinness + Ebisu) / Black & Tan (Guinness + Kilkenny) Via Splitzer / Yuzu Shandy / Shandy Gaff / Red Eye
·Highball
· High Ball / Ginger · High Ball / Cork · High Ball
·Bottle
· Magniers (apple · pear cider) / Corona · Beer / Smirnoff Ice
· Wine / Shochu / Plum wine
· Wine (red, white) / Tinzano (Rosso, Bianco) / Sangria (red · white) / Shochu (wheat · potato · chestnut) / plum wine (rock, soda)
·Whisky
· 【Country] Suntory angle 【Irish】 Jameson / Tullamore · Dew 【Scotch】 Joni Red · Ballantine 【Bourbon】 IW Harper / Early Times
· 30 cocktails in total
· Gin · Tonic · Salty · Dog / Bloody · Marie / Lam · Cork / Madame Rose / Cassis · Orange / Keel / Sumoni / Dita Orange / Yogurt Orange / Calahu · Milk etc.
·Non-alcoholic
· Orange juice / grapefruit juice / pineapple juice / tomato juice / oolong tea / milk / coca cola / gingeraire / perrier / all-free
Coupon that can be used
"In early summer via hole course"
All kinds of unlimited drinks __
2 hours 7 items 4000 yen

Presentation conditions

At the time of booking (the day of booking OK)

Conditions of use

◆ Draft beer - all - you - can - draft beer ... 【70 kinds of barrels etc 4500 yen】 【Guest beer is OK7 type 5000 yen】 also available (details is course page) ※ Drinking 30 minutes extension + 500 yen / 3 people ~ / etc Ticket can not be used together / Card use OK

Expiration date

Until the end of June, 2018

[Female only! Weekday only]
Sun - Thurs extend all courses 30 minutes

Presentation conditions

At the time of booking ※ day OK

Conditions of use

◆ 4 people / / Fri, Sat, 2 hours free drinks before celebration / card OK / men can also use for + 500 yen

Expiration date

Until the end of June, 2018
2018/02/08 update