DETAIL
"Tonto Salon Sparerib Course ☆ Gold" 70 kinds of draft beer beer 5 kinds etc. All-you-can-drink ★ 2 hours 7 items 5000 yen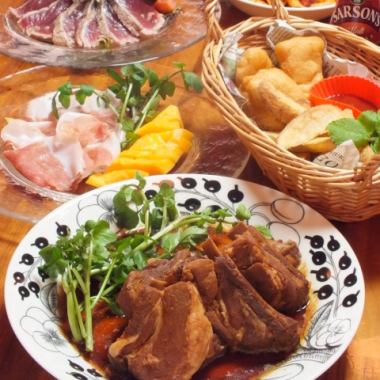 By using a coupon5000 Yen
tax included
All-you-can-drink available

Guinness and Hugarden etc, including 5 types of beer draft beer, about 70 different drinks such as sparkling and bottle wine are all you drink!
Reservation deadline

Coming to the store until the desired date of the day 18
Guinness, Hugarden White, etc. 70 kinds of draft beer such as barrel draft beer are all-you-can-drink for 2 hours! Hoods are seasoned fish & chips, ahijogo, pasta and other good products such as raw ham salads, lizard salad spare ribs, Irish pubs!
Course menu
◆ Palma Production Ham Salad
◆ of shrimp and mushrooms Ahijo
◆ Fish & Chips
◆ Torotto ☆ Pork spare rib
◆ Capricious pizza (real stone kiln served Napoli pizza)
◆ Whimpest pasta
◆ Assorted fruits
※ 5 draft beers with unlimited drink at + 500 yen! Craft beer is OK !!
※ If you have any requests about cuisine, please feel free to contact us.
* Cooking may change due to purchase of the day.
※ If you have a birthday / anniversary, you can reserve in advance
I will prepare a dessert plate for free.For more information ★ Staff
All-you-can-drink menu
- Keg beer
· Guinness (Ireland) / Kilkenny (Ireland) / Hugarden · White (Belgium) / Bell · View Creek (Belgium) / Ebisu
Beer cocktails
· Half & Half (Guinness + Ebisu) / Black & Tan (Guinness + Kilkenny) Via Splitzer / Yuzu Shandy / Shandy Gaff / Red Eye
·Highball
· High Ball / Ginger · High Ball / Cork · High Ball
·Bottle
· Magniers (apple · pear cider) / Corona · Beer / Smirnoff Ice
· Wine / Shochu / Plum wine
· Sparkling (Cava) / Wine (Red, White) / Tinzano (Rosso, Bianco) / Sangria (Red · White) / Shochu (Wheat · Potato · Chestnut) / Plum wine (Rock, Soda)
·Whisky
· 【Country] Suntory angle 【Irish】 Jameson / Tullamore · Dew 【Scotch】 Joni Red · Ballantine 【Bourbon】 IW Harper / Early Times
· 30 cocktails in total
· Gin · Tonic · Salty · Dog / Bloody · Marie / Lam · Cork / Madame Rose / Cassis · Orange / Keel / Sumoni / Dita Orange / Yogurt Orange / Kalua · Milk etc.
·Non-alcoholic
· Orange juice / grapefruit juice / pineapple juice / tomato juice / oolong tea / milk / coca cola / gingeraire / perrier / all free

Coupon that can be used
Popular No. 1 !! 1 pound steak course /
About 70 seeds, such as roughly sparerib course course barrels
All-you-can-drink for 2 hours 5000 yen

Presentation conditions

At the time of booking

Conditions of use

Sparerib Course · Irish Course also available / 3 people / / Card OK / Other tickets can not be used together ◆ All you can drink unlimited drinks: Barrel Raw 1 4500 yen / 7 draft beer 7,500 yen

Expiration date

Until the end of March 2018
2018/02/08 update