"Tonto Salon Sparerib Course ☆ Gold" 70 kinds of draft beer beer 5 kinds etc. All-you-can-drink ★ 2 hours 7 items 5000 yen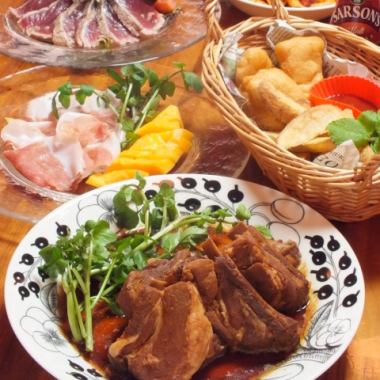 Guinness, Hugarden White, etc. 70 kinds of draft beer such as barrel draft beer are all-you-can-drink for 2 hours! Hoods are seasoned fish & chips, ahijogo, pasta and other good products such as raw ham salads, lizard salad spare ribs, Irish pubs!
Menu
◆ Palma Production Ham Salad
◆ of shrimp and mushrooms Ahijo
◆ Fish & Chips
◆ Torotto ☆ Pork spare rib
◆ Capricious pizza (real stone kiln served Napoli pizza)
◆ Whimpest pasta
◆ Assorted fruits
※ 5 draft beers with unlimited drink at + 500 yen! Craft beer is OK !!
※ If you have any requests about cuisine, please feel free to contact us.
* Cooking may change due to purchase of the day.
※ If you have a birthday / anniversary, you can reserve in advance
I will prepare a dessert plate for free.For more information ★ Staff
Coupon that can be used
Popular No. 1 !! 1 pound steak course /
About 70 kinds of ice binder course barrel raw seeds 5 etc.
All-you-can-drink for 2 hours 5000 yen

Presentation conditions

At the time of booking

Conditions of use

Sparerib Course · Irish Course also available / 3 people / / Card OK / Other tickets can not be used together ◆ All you can drink unlimited drinks: Barrel one kind 4500 yen / 7 draft beer 7 types 5500 yen

Expiration date

Until the end of December 2017