Course details
"Toro Toro spare rib course ☆ Gold" 70 kinds of barrel draft beer and other 70 kinds all-you-can-drink ★ 2 hours 7 dishes 5000 yen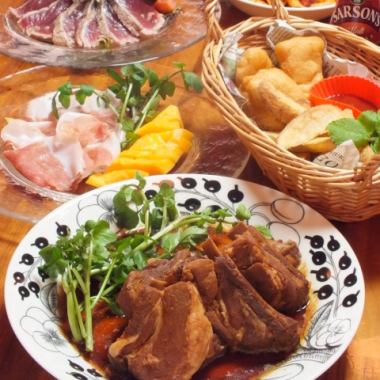 By using a coupon5000 Yen
There are 7 kinds of draft all-you-can-drink beer for tax / + 500 yen! Craft beer is OK !!
All-you-can-drink available

Including 70 kinds of draft beer, such as Guinness and Hugh Garden, sparkling and bottle wine, highball and cocktail, etc., you can drink about 70 kinds of drinks freely!
Reservation deadline

Until 18 o'clock on the day of visit to the store
Available days for reservation

Monday - Sunday - Public holidays - Holidays
Guinness, 70 kinds of raw draft beer such as Hugh Garden White are all you can drink for 2 hours for 2 hours!
Course menu
◆ Parma prosciutto salad
◆ Whimsical Ajillo
◆ Fish & Chips
◆ Toro Toro ☆ pork spare rib
◆ Whimsy pizza (Ishigaki grilled authentic Neapolitan pizza)
◆ Black Peperoncino
◆ Assorted fruits
※ Please feel free to contact us if you have any request for food.
※ By the stocking of the day, dish may change.
※ If you have a birthday or anniversary, please make a reservation in advance
We will prepare a dessert plate free of charge.For more information ★ Staff
All-you-can-drink menu
· Draft beer beer
・ Guinness (Ireland) / Kilkenny (Ireland) / Hugh Garden White (Belgium) / ヱ bis / + daily guest beer five kinds (domestic craft, Germany, Scotland, USA, etc.)
· Via cocktail
・ Half & Half (Guinness + ヱ Bis) / Black & Tan (Guinés + Kilkenny) Beer Spritzer / Shandy / Shandy Gaff / Red Eye
·Highball
・ Highball / Ginger ・ Highball / Cork ・ Highball
・ Sparkling / wine / shochu / plum wine
-Sparkling (Kava) / Wine (Red, White) / Sparkling Wine (White, Dry) / Chinzano (Rosso, Bianco) / Sangria / Shochu (Wheat, Straw, Chestnut) / Plum Wine (Rock, Soda Split)
・ All 30 types of cocktails
・ Gin ・ Tonic / Salty ・ Dog / Bloody ・ Mary ・ Lamb ・ Cork ・ Madam Rose / Cassis ・ Orange / Kiel / Spumoni / Dita Orange / Yogurt ・ Orange / Kahlua Milk etc
·Bottle
・ Magners (apple / pear cider) / Corona ・ beer / Sminoff ice
·Non-alcoholic
・ Orange juice / grapefruit juice / pineapple juice / yuzu juice / tomato juice / oolong tea / milk / Coca cola / ginger ale / all free
2019/07/19 update